BATCH 7
One of the guys shared a link the other day- 11 New Limited-Edition Scotch Whiskies to Drink Right Now. Naturally we all read it and discussed it and decided to share tasting notes. We're looking at a group purchase, if the club ever gets back together. The BALVENIE TUN 1509 was chosen, Balvenie is a favorite amongst us all. It is also more accessible, read that as affordable, and comfortable because we are all familiar with the brand. Not that there is anything wrong with any of them, obviously, but there is seven of us. Try to get seven people to agree on how to spend some money and you'll understand the difficulty of making this decision.
The seventh release of Balvenie Tun 1509 is a combination of 21 hand-selected casks. Four American oak barrels, 10 sherry butts and seven hogsheads – that have spent three months in a traditional marrying tun. If you're familiar with Balvenie in any form you know how consistently good it is. This has got our club more than a little excited for a tasting.
Up front we are affiliated with the whiskey exchange and make a commission on anything you purchase through our links. Your Price is not changed at all.
What began as a distillery-only bottling has now become one of the most-loved parts of Balvenie's range.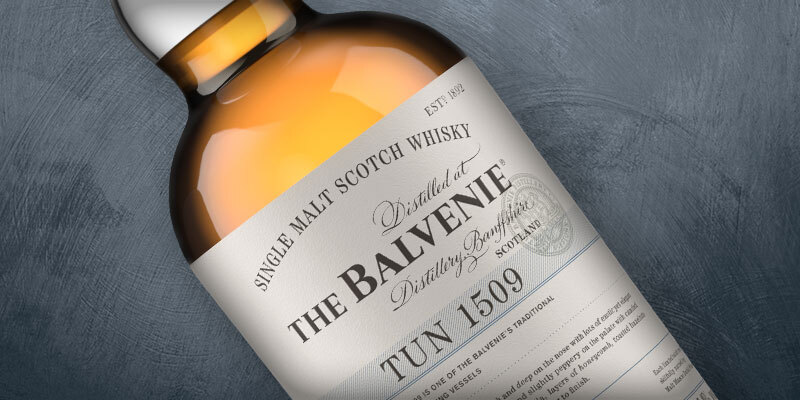 The Whisky Exchange
Named after David Stewart MBE's favourite marrying vat – Tun 1401. And each of the following series has been named after the tun the whisky was married in. Every year David creates a new batch that brings together some of the best casks from the distillery's archive.

CASK COMPOSITION
Each whisky in the series spends at least three months in a traditional oak marrying vat. The tun – in a traditional dunnage warehouse.
Balvenie Tun 1509 Batch 7 is created by marrying 21 different casks. Their individual characteristics create a singular expression greater than the sum of its parts.
TASTING NOTES
By the producer

NOSE. Rich and deep, lots of exotic and elegant oak notes. Followed by sweeter aromas of dried fruits raisins and dates. Then a spicy outburst of ground ginger and some melted brown sugar.
PALATE. Rich and lush and slightly tangy with candied orange peel, lots of oak vanilla. Some golden syrup, layers of honeycomb, toasted hazelnuts with some spicy ginger and nutmeg to finish.
FINISH. Sweet and malty with oak vanilla and spices.
A little Irish?
If you've read our posts about whiskey you know we tend to like peaty Scotches. Not exclusively by any means, but they're definitely some of our favorites. You'd also know we like Irish Whiskey. I grew up on Jameson and Tullamore Dew and one or both are always in my cabinet. So when I went to Ireland last summer and was trying new whiskeys every night, imagine my joy when I came across the CONNEMARA 12 YEAR OLD, a peated Irish Whiskey. The 12 is the oldest expression in the Connemara range, and while peated it is not Islay peat. What I mean is, Connemara is subtle. You will not be smashed across the head with a peat shillelagh. This peated Irish single malt from the Cooley distillery has won several awards including a Gold medal at the San Francisco World Spirits Fair.
Please follow and like us: